Recap from Azkatraz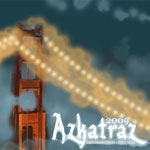 Jul 22, 2009
Over the weekend, Azkatraz, a Harry Potter symposium took place in San Francisco, California. Lev Grossman was a guest at the convention, and has a new blog entry now online. Mr. Grossman, who wrote a previous article about his trip to our own LeakyCon (and the article from a few weeks ago about Wizard Rock), had the following observations about Azkatraz:
— The crowd at Azkatraz was very diverse agewise, but genderwise it
skewed heavily toward women. I don't know why this surprised me, but it
did.
— There was a great panel on the history of Harry Potter fandom online, starring Melissa Anelli, founder of The Leaky Cauldron and author of Harry: A History.
She made an interesting point, which is that because Harry and the
Internet both became massive mainstream phenomena at around the same
time, and because Harry fans are kind of amazingly determined and
resourceful, they wound up establishing a lot of the rules and social
forms of online fandom in general. Harry Potter fandom is now the
template for all future fandoms.
— The conference organizers did a clever thing, which was to hijack a
channel of the hotel cable system and continually broadcast the Harry
Potter movies for 72 hours straight. I watched Cedric Diggory die so many times!
— Chris Rankin
was here, who plays Percy Weasley in the movies. He is in fact a nice
and regular dude, who hung out in the evenings despite the incessant
squeeing from fangirls. He also did a karaoke performance of "Summer
Lovin'" from Grease.
On a related note, SFWeekly let us know about some photos they took at the convention, here.