PotterCast 201: Live from California, Half-Blood Prince Reactions and Wizard Rock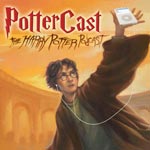 Jul 23, 2009
We have for you today our 201st episode of PotterCast, our Harry Potter podcast,
which features further reactions to the recently released Harry Potter and the Half-Blood Prince film. Recorded live in Milpitas, California, this episode a number of opinions from members of the live audience. This discussion covers many aspects of the sixth film, as well as how this film relates to the rest of the series. In addition to this, the 201st episode features a number of pre-recorded listener opinions of the film. To submit your opinion of the film, please make a twenty-second audio recording of your thoughts and send the audio file to [email protected] or via our PotterCast Skype account. This show also contains a discussion of the recent news regarding a quote by film producer David Yates relating this thought that the final battle scene in the Deathly Hallows film would be thirty minutes long. Movie spoilers abound!
As a reminder, the LeakyCon DVD, which will be available to pre-order soon, will
also include all wizard rock performances from our conference. If you
like live wizard rock, be sure to reserve your copy of
the upcoming LeakyCon Live Album of the wizard rock live shows at our LeakyCon 2009 conference. To listen, just hit the
"Play" button on the right side of the page (–>), or use iTunes, or direct download.
"Live from California, Half-Blood Prince Reactions and Wizard Rock"
RT: 29:15
Also, special thanks to our ever-vigilant UStream Mods for monitoring the live PotterCast recordings.
LeakyCon 2009: A Harry Potter Conference in Boston
"Harry, A History" Website
Jingle Spells 2
PotterCast Vlogs
Podcast Alley
Digg
Remember you don't need an iPod to listen. Listen easily on iTunes, which you can download and install here, by clicking here to listen, or you can just use the streaming Flash player at PotterCast.com or just on the right side of this page. Discussion of the PotterCast is right here. Enjoy!