Happy Birthday Nick!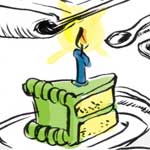 Aug 14, 2009
Posted by Melissa Anelli
Today is a special day: our forum admin Nick Rhein's 25th birthday! Please everyone join us in wishing him the happiest birthday someone who spends all day wrangling the content and bugs that more than 80,000 users can heap onto a site. We love you Nick – have a great day!