PotterCast 180: The Mystic Kettle of Knackledork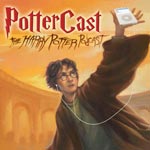 Jan 12, 2009
Uncategorized
It's the first PotterCast of the new year and is packed full with the latest Harry Potter news, discussion and so much more. This week on our Harry Potter podcast, Sue's News starts off the show with the latest on the upcoming Harry, A History audio book, Dan Radcliffe's comments on Harry Potter: The Musical, actor Tom Felton at Universal Orlando, High Res Half-Blood Prince images, more on possible splits for the Deathly Hallows films, and the Half-Blood Prince film garnering a PG rating. We also give you some more information on the upcoming PotterCast Summer Tour and a run down of our latest Leaky events. Canon Conclundrums is up next, with a discussion on wandless magic and the act of Legilimency. The show wraps up with our PotterCast Quartet talking about the new year, Frak telling hot sauce stories, John making wizard rock music videos, Jingle Spells 2 CDs shipments, and info on Fitting It In, including John's subscriber challenge. To listen, just
hit the "Play" button on
the right
side of the
page (–>), or use iTunes, or direct download.
"The Mystic of Knackledork"
Where are they going to split Deathly Hallows? Will they cut Godric's Hollow?
Dobby isn't dead…
Canon Conclundrums: It's "Legilimens," not "Legitimens."
Internet and the Wizarding World.
Is heartbreak worse than death?
The Wrap-Up: Frak puts hot sauce in his eye ' and John covers himself with yogurt.
Go to youtube.com/pottercast to see the worst day of John's life.
Register for LeakyCon 2009 now!
Subscribe to PotterCast's YouTube channel today!
RT: 69:04
Producer: John Noe
Editor: Michael Beckett
Contributing Editors:
Jake Neuman
Briana Roop
Adam Saunders
LeakyCon 2009: A Harry Potter Conference in Boston
"Harry, A History" Website
Jingle Spells 2
PotterCast Vlogs
Podcast Alley
Digg
Direct download (33 MB).
Direct download low-bandwidth (8 MB).
Remember you don't need an iPod to listen. Listen easily on iTunes, which you can download and install here, by clicking here to listen, or you can just use the streaming Flash player at PotterCast.com or just on the right side of this page. Discussion of the PotterCast is right here. Enjoy!