New Half-Blood Prince Trailer Running in Japan, New Stills of Snape on the Tower, Greyback, Draco and More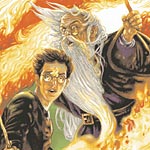 Jan 18, 2009
Uncategorized
Thanks to Pottermania for letting us know about a trailer for Harry Potter and the Half-Blood Prince that is running in Japan, that contains many new images from the upcoming film. You can see new stills of this trailer via this link, including a remarkable look at Snape on the Astronomy tower, wand at hand, gesturing to Harry to remain silent right before those pivotal events with Dumbledore, as well as a dramatic photo of Greyback dragging a victim, while the Death Eaters are creating havoc in Diagon Alley. UPDATE: At the request of Pottermania, we must ask you to view all of the remaining photos including ones of Draco, Luna in the Lion hat and more via their website. Please note: These stills are heavily watermarked and in some instances
are blurry. We do not know if when this trailer will be released or
online and will update with more when we can. Thanks T!