High Res Weasley Wheezes, Trio and Slughorn Half-Blood Prince Photos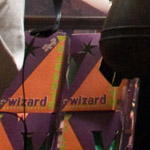 Jan 06, 2009
Uncategorized
Earlier we told you about new Harry Potter and the Half-Blood Prince photos contained in the February edition of Empire Magazine. Today, Warner Bros sent us lovely high res editions of these photos:
The Weasley Wizard Wheezes set, featuring actors James and Oliver Phelps (Fred and George), talking to the director. Be sure to note all the detail on the signs, and the glorious magical products included for their joke shop.
Three Broomsticks set, featuring director David Yates, with the Trio and Professor Slughorn (Rupert Grint, Dan Radcliffe, Emma Watson, and Jim Broadbent) Enjoy!