"Half-Blood Prince" Tops MTV Surefire 2009 Blockbuster List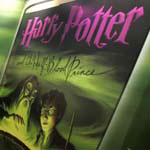 Jan 07, 2009
Uncategorized
The upcoming Harry Potter and the Half-Blood Prince film is the top Surefire Blockbuster of 2009, according to a new list published by MTV. The sixth film made first place in a list of the top ten upcoming blockbuster films set for release in this new year. MTV says the following of the next Harry Potter film:

Every "Potter" film has flirted with a billion dollars worldwide, but
will the sixth movie finally cross that sacred plateau? By the time
July 17 rolls around, it will have been two years since fans saw their
wizard friends onscreen, and many regard "Half-Blood" to be one of the
best books in the franchise. Through the first five films, Harry has
overseen the most successful movie franchise of all time, and it seems
likely that "Prince" will once again crown him king.
Joining Potter, such films as the film adaptation of Angels and Demons, Terminator: Salvation, and Transformers: Revenge of the Fallen also made the list. The complete list of Top 10 Surefire 2009 Blockbusters can be found right here.
Harry Potter and the Half-Blood Prince will be in theaters July 17, 2009.