Contest to Win Collector's Edition of "Beedle the Bard" from AbeBooks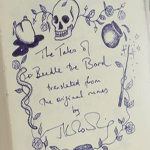 Jan 08, 2009
Uncategorized
Online retailer AbeBooks.com has announced a new contest to win the Collector's Edition of The Tales of Beelde the Bard by J. K. Rowling and a copy of the Sotheby's auction catalog from the original December 2007 auction. Open to residents of the United States and Canada over the age of 13, this contest asks you to answer the following question:
The seven hand-written editions of The Tales of Beedle the Bard feature moonstones mounted into their covers. Which 19th century author wrote a novel called ˜The Moonstone' that was published in 1868?
To enter, click here. This contest will run through January 20, 2009, and the grand prize winner will be chosen on or around January 27, 2009. Full contest rules can be found via this link.
Good luck!