Wizards Wrock 4 Equality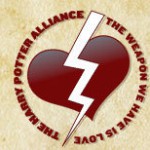 Oct 16, 2009
As already noted in the Wall Street Journal this morning, the HP Alliance and wizard rock bands are performing a "Wrock 4 Equality" rally over the next two weekends. You can catch special coverage on the Internet via our joint Leaky/HPA channel at livestream.com/pottercast.
At 3pm this Sunday, October 18, you can join Evanna Lynch (Luna Lovegood in the HP films), Paul DeGeorge (Harry and the Potters), Lauren Fairweather (The Moaning Myrtles) and Brian Ross (Draco and the Malfoys), who are acting heads of house for the HPA, for a one-day House Cup competition combining equality efforts with points earned.
Then, on Oct 24, wrock bands Harry and the Potters and Draco and the Malfoys will perform in Maine; the concert will be streamed online at http://www.livestream.com/pottercast. After the concert, attendees in Portland will canvass and those watching online will have the opportunity to phone bank with Mass. and Maine Equality foundations. A second concert will close the day out.
The effort centers around Maine's Nov. 3 marriage ballot initiative. Full details may be found at http://thehpalliance.org/wrock4equality.