PotterCast 209: When Harry Met Momo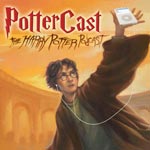 Nov 21, 2009

The 209th episode of PotterCast, our Harry Potter podcast, is online and ready to be downloaded. This week, our Sue is away, but we still have for you a run down of the latest in the Potter world, including news on the release of a featurette from the upcoming Harry Potter and the Half-Blood Prince DVD, rumors about the Wizarding World of Harry Potter Theme Park release date, further construction updates about the Theme Park, iPhone Spells App from WB, and the release of first deleted scene from the HBP film. Next, we bring you information on what is going on in the many areas of the Leaky Cauldron with a site-wide run down. Half-Blood Pieces follows with a discussion of Harry's trip to Diagon Alley where we get our first look at the Weasleys' Wizard Wheezes shop from the sixth Potter film. Finally, the show wraps up with talk of Castle, Avatar, the audio of Rupert Grint on the character of Ron, and much more.
Stay tuned to the very end of the show for a very special, one week only, Avatar podcast with Melissa, John, and Frak!

As a reminder, the LeakyCon DVD, which will be available to pre-order soon, will also include all wizard rock performances from our conference. If you like live wizard rock, be sure to reserve your copy of the upcoming LeakyCon Live Album of the wizard rock live shows at our LeakyCon 2009 conference. To listen, just hit the "Play" button on the right side of the page (–>), or use iTunes, or direct download.
"When Harry Met Momo"
RT: 56:57
Producer: John Noe
Also, special thanks to our ever-vigilant UStream Mods for monitoring the live PotterCast recordings.
LeakyCon 2011: A Harry Potter Conference in Orlando!
"Harry, A History" Website
Jingle Spells 2
PotterCast Vlogs
Podcast Alley
Digg
Remember you don't need an iPod to listen. Listen easily on iTunes, which you can download and install here, by clicking here to listen, or you can just use the streaming Flash player at PotterCast.com or just on the right side of this page. Discussion of the PotterCast is right here. Enjoy!
---
Leaky's Harry Potter Twitter list is the most exhaustive collection of news and official Harry Potter information in the world. Be sure to follow it today!