Nicholas Hooper's Score for Harry Potter and Half-Blood Prince Nominated for Grammy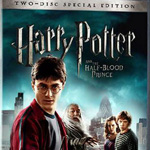 Dec 03, 2009
Congratulations are in order today as Harry Potter and the Half-Blood Prince has been nominated for a Grammy Award. The score composed by Nicholas Hooper for the sixth Harry Potter film is among those nominated s "Best Score Soundtrack Album For Motion Picture, Television Or Other Visual Media." Others nominated include scores for "The Curious Case of Benjamin Button" (composed by Alexander Desplat), "Milk"
(Danny Elfman), "Star Trek" (Michael Giacchino) and "Up" (Michael Giacchino). You can read the entire list of nominees here. Music from the soundtrack can be heard here on the official HBP website or here at the WB award site. The 52nd Grammy Awards will be presented on January 31, 2010 in Los Angeles, CA.
Thanks to Christine and all who emailed!