Jessie Cave Talks Fenrir Attack Scene for Deathly Hallows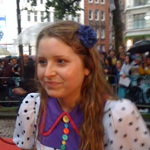 Dec 09, 2009
Last week, several cast members (Tom Felton, Matt Lewis, Evanna Lynch and Jessie Cave) of the Harry Potter films took part in a public signing event at HMV for the release of the Half-Blood Prince DVD in London. Emma from Snitchseeker.com was at the event and spoke to the cast members including Jessie Cave who briefly mentions her role as Lavender Brown for Harry Potter and the Deathly Hallows. Jessie confirms the attack by Fenrir the Werewolf is in the film. Quotage:
"SnitchSeeker: Jessie, have you started Deathly Hallows yet?
Jessie: No. I think I go back in a week or two, which is cool.
SnitchSeeker: Do you know if you're character (like in the book) gets attacked by Fenrir Greyback?
Jessie: Yeah, that is in, so that's exciting. A bit scared 'cause he's quite a big guy, but it'll actually be fun.
Tom: Is this Dave? Ah, he's a sweetheart. Kind of like a house on fire.
Jessie: He's tall.
Tom: Yeah, he's pretty big."
Thanks Emma!