Character of Reg Cattermole Cast for "Deathly Hallows"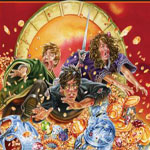 Feb 13, 2009
Uncategorized
With filming set to begin in the next several days on Harry Potter and the Deathly Hallows, there is news today on a minor character casting for the final Harry Potter film. The Chester Chronicle reports that the role of Reg Cattermole will be played by actor Steffan Rhodri. As fans will recall, Reg is the Ministry worker Ron, Harry and Hermione encounter at the Ministry of Magic. On his filming schedule for the movie, Steffan Rhodri noted "I'll be filming in London during the autumn' he said. "I'm really
looking forward to it, it's the biggest film I've been involved with." You can see a photo of the actor here.
Formal production on Harry Potter and the Deathly Hallows will begin this month, with part one due for release in theaters November, 2010, and part May, 2011.
Thanks to everyone who emailed!