Robert Hardy on his Former Role as Cornelius Fudge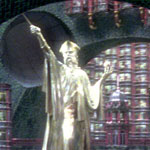 Feb 14, 2009
Uncategorized
Actor Robert Hardy has given a new interview, where he discusses his former role as Minister of Magic Cornelius Fudge for the Harry Potter series. Confirming the part of Fudge is not in the upcoming HBP, Mr. Hardy reflects back on the joy he had when working on the set with his fellow Potter actors. Quotage:
I loved my time as Cornelius Fudge, Minister for Magic, but my
character has now been erased! I knew it would happen, because he's
quite a good part in the book, but there was no way they were ever
going to fit everything into one film.

All three producers
rang me up, separately, on the same day to give me the news – so I was
told three times. They said, 'We're so sorry, we're having to cut the
book by half,' so that was the end of that. I was very sad, because of
the amusing and wicked people I worked with, like Robbie Coltrane,
Michael Gambon and Maggie Smith, who is an old friend. It was such fun
to film, and there were so many laughs on set that it was hard to come
up with a sober face just before they shouted, 'Action!'
Robert Hardy also mentions some of the issues facing him as an older actor working in films (he is now 83 years old).
Every time I do something now, I have to jump the medical hurdle.
The doctors usually say, 'Good God, is that how old you are?' then they
report to the insurers, who immediately cry, 'Help!'

The
insurers for the Harry Potter films were insuring me for a massive
amount of money and being extra reluctant about it. I could almost hear
them saying, 'Is he worth it? He's broken most of his bones, he's had
cancer and he might drop dead at any moment!'