Hagrid's Hut at Harry Potter Theme Park to be "Unoccupied Prop Structure"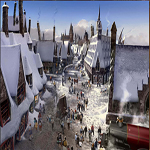 Feb 16, 2009
Uncategorized
As we have been reporting, construction is continuing on the Wizarding World of Harry Potter theme park attraction at Universal Studios in Orlando, Florida. Today, the Orlando Sentinel has a short update on the progress, confirming Hagrid's Hut is currently being built, with the paper citing building permits as the source. The article states:
The setting, according to the permits, is being built for Universal
by the Nassal Co. of Orlando, which specializes in themed construction
projects.
While the permits offer few details, it appears Hagrid's Hut will be
mostly for display purposes. The documents suggest the interior of the
building will be used for prop storage.
"Hagrid's Hut is an unoccupied themed prop structure," according to one permit description.
You can see recent construction photos of the hut here, and here in our image galleries.
To follow what TLC first reported last year, Screamscape is also reporting that "As far as the "world" itself, I've been told that they are planning
lots of street atmosphere entertainment, such as building in a system
of special effects to allow for ˜wizard duels' to take place in the
streets. Universal is also working with their chefs to come up with
lots of new and unique foot items inspired from the books, which will
apparently include "butterbeer". According to a report from someone who
claims to have actually tasted a test version of it, the final version
may taste a little bit like root beer." The Screamscape article also has more on the supposed closing of the Dueling Dragons, as they note: "We've heard an early rumor claiming that Dueling Dragons will close
entirely for it's final transformation to become part of the Wizarding
World of Harry Potter sometime between September and December 2009."
Finally, a last tidbit on the giant Hogwarts Castle, as the Sceamscape author writes: While I know everyone is dying to know more about the major ride inside
Hogwarts (which will include an extensively themed and long indoor
queue like Spiderman and Dueling Dragons), I've been told that
Universal is planning on holding back on that information until late
2009.