HP Alliance Dumbledore's Army Meeting Live this Wednesday, Feb. 25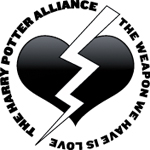 Feb 22, 2009
The second HP Alliance Dumbledore's Army meeting will be this Wednesday at 9 p.m., on UStream.
During the last meeting hundreds of Potter fans came together to talk about helping those less fortunate in Burma and Darfur. This time the call will focus on consumer culture: Paul DeGeorge and Matt Maggiacaomo, of Harry and the Potters and the Whomping Willows, respectively, will talk about their vlog project, "No New Stuff," which is updated twice weekly at the HPA YouTube Channel. It will also feature information about a new HPA campaign to make sure all products sold in Harry's name are done so under the banner of Fair Trade. Author Peter Gould, the author of "Write Naked," will also be on hand to talk about breaking out of consumer culture.
Join us for a fun call, which will end with a major HPA announcement, a great surprise that's sure to excite the fandom…one for which it is very much worth DVR'ing Lost.

See you there! Remember, it's at 9 p.m. at this channel. You can listen to the call and interact with the participants by going to this page. You should sign up to be a member at UStream, as if the chat gets too crowded we will require membership to chat.