Rupert Grint on Cover of April Edition of Blag Magazine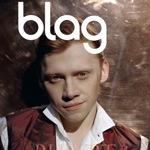 Feb 26, 2009
Actor Rupert Grint (Ron Weasley) will be gracing the cover of the April 2009 issue of Blag Magazine, which will also feature a lengthy interview and "20 page portfolio feature" with the young actor. Our Order Partner RupertGrint.net is reporting that this issue will feature extensive coverage of Mr. Grint's latest film, Cherrybomb, along with "Rupert in his first styled shoot at this stage in his career." The first image of Rupert from the magazine, the cover, can be viewed right here. Rupert is quoted in an accompanying press release as saying, in regards to working on Cherrybomb: "I really enjoy it because it is a totally different world. I think we do get a bit spoilt on Harry Potter. I really prefer the pace of these sorts of films ' on this one you do maybe seven scenes a day ' so it moves really quickly. It's exciting."
The press release continues with Blag Magazine co-creators Sally A. and Sarah J. Edwards discussing what to expect in this issue. Quoteage:
"For the first Bi-Annual, we wanted to present today's most exciting and skilled talents in a classic way. It was a real honour to photograph Rupert in his first styled shoot at this stage in his career. It's the icing on the cake for us." said Sarah.
"Vol.3 Nø 1 is very much inspired by iconic Hollywood with a British swagger and touch of rebellion. Rupert, in this new light is the perfect headliner." added Sally.
The April issue of Blag Magazine is due on newsstands soon.
Many thanks to RupertGrint.net and Rupert-Grint.us!