Harry Potter and the Deathly Hallows to Begin Filming in Two Weeks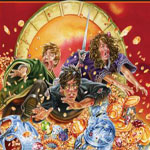 Feb 06, 2009
Uncategorized
As a follow to the article below, the BBC is now reporting additional information on main filming for Harry Potter and the Deathly Hallows. With the set now reopened following the accident with a stunt person, a spokesman for WB said of the upcoming Harry Potter filming:
"We have not begun filming yet and will not do so for another two weeks. This has always been the case," she said.
"Filming will commence mid-February and go through to spring 2009."
As we first told you last December, filming on the seventh Harry Potter movie is due to run 54 weeks. This also follows Dan Radcliffe's earlier remarks about hoping to begin filming on the 15th of the month as well. Harry Potter and the Deathly Hallows will be released in two parts, the first November 2010, followed by Part 11 in May 2011.