New "Half-Blood Prince" Preview Special Running at Regal Theaters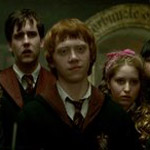 Feb 07, 2009
Uncategorized
At select Regal theaters, a preview special is airing, featuring new footage, clips and interviews with the cast of Harry Potter and the Half-Blood Prince. According to the report, new are interviews with the Trio of Dan Radcliffe (Harry), Emma Watson (Hermione), and Rupert Grint (Ron) as well as Potter producer David Heyman. Also, some of the footage airing is described as follows:
Bellatrix on top of a table in the Great Hall throwing a spell
(extended), Hermione throwing birds at Ron, Hermione's jealousy of Ron
and Lavender ("Excuse me, I have to go vomit"), Dumbledore levitating
items in the Dursley house, a couple of new lines from Dumbledore, new
shots of the Inferi, and the "She Thinks You're the Chosen One" scene
(extended).
Please note: these features, such as the one on HBP, often air well before the trailers begin before the scheduled movie start time. If anyone happens to attend a movie and sees this, please send in your detailed report.
Thanks to Matt and Andrew from MuggleNet!