LeakyCon 2009 Opens Submissions for Fan Art Gallery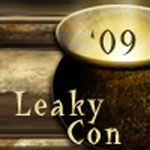 Mar 02, 2009
LeakyCon 2009 is now taking Fan Art submissions to be part of a special Art Gallery, which will be on display during our first ever Harry Potter fan conference to be held this May in Boston, Massachusetts. If you would like your artwork to be included in such a gallery, please fill out this simple form which
asks you for basic information about your art, a short bio, as well as
links to your work. This will give fan artists the opportunity to have
their work showcased as part of our conference in the Stanbro Mezzanine
of the Boston Park Plaza Hotel, the site of the conference. We are looking for all types
of art work in any medium, including: original drawings, paintings,
glass work, photography, sketches, crafts, sculptures, and more.
Submissions are welcomed from both artists attending and not attending
LeakyCon who would like to have their work admired by all
in attendance.
All submissions must be received by March 31st!
Any additional questions, comments, or concerns can be emailed to [email protected] LeakyCon 2009 will take place at the Boston Park
Plaza Hotel from May 21-24, 2009 in downtown Boston, MA. All proceeds
from LeakyCon 2009 will benefit two great charities: Book Aid
International and The Harry Potter Alliance. Click here to register for Leaky's first ever
fan conference today.