Harry, A History Updates: Audio, Events and More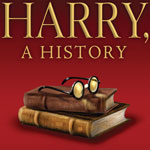 Mar 25, 2009
There are a few updates on the Harry, A History front!
Firstly, the audio edition was made available this month! It was released by Tantor Media and read by actress Renee Raudman. You can get it in person in a bookstore, or on Amazon here, on iTunes here, on Audible here. You can hear a sample by clicking here (I chose one that has the "voices" for John Noe, Sue Upton and Paul DeGeorge.)
Second, plans are shaping up for the summer and beyond with book events at LeakyCon, Azkatraz, a signing right outside San Francisco on May 3, and an event at BookPeople in Austin, TX, on June 30. I'll have a lot more info on Harry events soon, as the PotterCast/Remus Lupins/Whomping Willows tour plans firm up. Meanwhile you can keep up to date on events and other news at this facebook page or here on the book's site. I love visiting schools and libraries, so if you'd like to request an event please contact David Buchalter!
Last but certainly not least, the German edition was previewed recently at the Leipzig Book Fair. You can check out pictures at this page. I hope to have more updates about other editions soon!
Once again – and I feel like I can't say this enough – thank you all for all the unbelievable support you've offered me and the book, and for all your notes, owls, PMs, Facebook messages, e-mails, and snail-mail letters. I'm still slowly working through them but I am reading and appreciating them all. See you soon!