LeakyCon 2009 Keynote Speaker Announcement: Nosh Time with the Nerdfighters!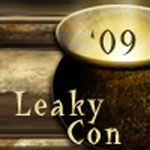 Mar 29, 2009
We are thrilled tonight to announce our first Keynote speakers at LeakyCon 2009: John and Hank Green, Nerdfighters extraordinaire, and hosts of the hugely popular YouTube video channel, The Vlogbrothers.
Hank Green is the author of EcoGeek.org, an environmentally conscious blog dedicated to sharing innovations that are working to preserve our planet. His brother John Green is an acclaimed novelist, winner of the Michael L Printz Award and author of several successful young adult novels, such as the recent Paper Towns, An Abundance of Katherines, and the award winning Looking for Alaska which will soon be a motion picture from Paramount. The brothers are well known and proud Nerdfighters, which is the concept it's much better to be traditionally known and defined as a 'nerd' or being someone who is intelligent and active concerning matters in the world around you, than being vapid and passive. John and Hank Green are also hosts of the Vlogbrothers channel on YouTube, one that was born of the idea they would alternate making daily videos to communicate with each other in lieu of normal written communications. Those few early videos quickly turned into a phenomena full of much fun, laughter, serious political news and information, charitable awareness, calls to action, and oh yes, Harry Potter.
Readers will recall in the days leading up to the release of Harry Potter and the Deathly Hallows in 2007, there was a video of a young man singing about wanting this long-awaited novel in the Harry Potter series. That video, Accio Deathly Hallows, quickly became a video of legend with well over a million views, and helped spur on the ever growing Vlogbrothers channel. Because the Nerdfighter side has cookies too, we now invite you to please join us for the Nosh with The Nerdfighters keynote event, which will take place Friday, May 22nd from 2:00-4:00pm during LeakyCon, our first convention being held in Boston at the historic Boston Park Plaza Hotel.
Books and Music are the good word for the day as 2:00-3:00PM will see the John and Hank Green make their presentation in the Plaza Ballroom, followed by a very special musical release party for DFTBA Volume 1, a special YouTube compilation CD featuring a new song from Hank that will take place from 3:00 to 4:00pm. At a cost of $30.00 (USD), keynote attendees will also be able to nosh on such goodies as Chocolate Chip, Peanut Butter, White Chocolate with Macadamia nut and Oatmeal raisin cookies or Chocolate Fudge Brownies, plus a choice of beverages including Chocolate, Whole and Skim milk, freshly brewed Starbucks coffee (regular and decaf) and a selection of herbal teas, all in addition to the great discussion and music for the event.
Currently open to those who have registered for LeakyCon, we expect this event to sell out very quickly. Note: If you have already registered for LeakyCon and would like to attend this event, please login via the registration link here, using your email address and confirmation number, choose the "Modify" option, then the "Nosh with The Nerdfighters" option under payments. We regret that, once registered for the Nerdfighters event, you will be unable to cancel.
Finally, an important update regarding the hotel for LeakyCon. The double bed rooms are now FULL at the Boston Park Plaza hotel, with the Queen and King size beds still remaining, however all of these are becoming limited, so we urge to make your reservations soon.
LeakyCon 2009, TLC's celebration of the HP series and our time as fans, will serve to aid two charities: Book Aid International, and the HP Alliance. LeakyCon will take place May 21-24th in Boston, Massachusetts, with more information available via this link. DFTBA and see you there!