Harry Potter Conferences News: We Are Wizards to Screen at LeakyCon 2009, Azkatraz Update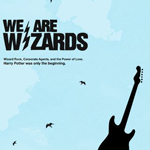 Mar 07, 2009
We have couple pieces of news today regarding two of the Harry Potter fan conferences set for later this year. First up: We are proud to announce that We Are Wizards, the documentary on the Harry Potter fandom, will be screening at LeakyCon 2009. The showing will take place Friday, May 22nd as part of the regular programming at our first convention which will take place in Boston, Massachusetts in just a few months. Directed by Josh Koury, the We Are Wizards documentary spotlights various facets of our community, and feature some familiar faces including Wizard rockers Harry and the Potters and other great groups, as well as comic book artist Brad Neely and TLC's own Melissa Anelli. For more on the documentary, click here, and you can see the trailer for the movie, here via YouTube.
As noted previously, LeakyCon 2009 will take place May 21- 24 in Boston, and registrations for the event are going fast! For more on how to be part of our first convention, hotel news, programming and more, please click here. Hope to see you there!
The second piece of news involves Azkatraz 2009, the HPEF Harry Potter conference being held later this summer July 17- 21st in San Francisco, California. The conference is extending the basic $145 registration date now until April 15th. To take advantage of this before rates rise and for more on what is sure to be a fun event for Potter fans everywhere, please click here.