The Sun Previews New Half-Blood Prince Trailer?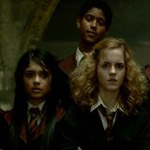 Apr 15, 2009
As readers will recall, a new trailer for Harry Potter and the Half-Blood Prince is being released tomorrow night. Our friends at The Sun have been hard at work again, this with a new article online tonight with a preview of "Harry Hotter," which trumpets: "Hagrid's hut burns as sinister Snape blasts out a spell in the first pictures from the sixth Harry Potter film. The article continues:
The wizard has his most desperate fight yet as Death Eaters try to lay waste
to his school and pals in the Battle of Hogwarts. Voldemort's henchmen also attack London " swooping on Trafalgar Square.
Also at the link are photos which are in fact not new, save for a new photo of Robbie Coltrane as Hagrid.