PotterCast 192: Honk for Harry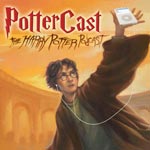 Apr 17, 2009
Late last night, we got our first look at the latest trailer for the upcoming Harry Potter and the Half-Blood Prince film. For the 192nd episode of PotterCast, our Harry Potter podcast, the PotterCasters got together before a live audience over UStream to cover the moments prior its release, as well as give their immediate reaction to the trailer's premiere. Sue, John, and Frak are joined by two of our 'fake' Melissa's for this episode: Shoshana and Melissa. Sue's News starts of the show with the latest on Bloomsbury re-releasing the two Harry Potter Companion Books, the PotterCast tour, Deathly Hallows film news, and the new release date for the Harry Potter and the Half-Blood Prince film. Next, the PotterCasters dive into discussion of the new trailer with their personal thoughts on the new film preview. We then take some calls and questions from the live UStream audience who give their feedback and reviews. Join in with the PotterCasters now for this special look at the newest Half-Blood Prince trailer today. To listen, just hit the "Play" button on the right side of the page (–>), or use iTunes, or direct download.
"Honk for Harry"
Our Live Trailer Show!
Recorded Live on Ustream, this entire show includes the news and an hour of trailer talk.
We break it down as it was released with immediate fan feedback and reviews.
Go to youtube.com/pottercast for our daily vlogs.
Register for LeakyCon 2009 now!
RT: 73:51
Producer: Stede Bonnett
Editor: Michael Beckett
Also, special thanks to our ever-vigilant UStream Mods for monitoring the live PotterCast recordings.
LeakyCon 2009: A Harry Potter Conference in Boston
"Harry, A History" Website
Jingle Spells 2
PotterCast Vlogs
Podcast Alley
Digg
Direct download low-bandwidth (9MB).
Remember you don't need an iPod to listen. Listen easily on iTunes, which you can download and install here, by clicking here to listen, or you can just use the streaming Flash player at PotterCast.com or just on the right side of this page. Discussion of the PotterCast is right here. Enjoy!