Video: JK Rowling Arrives at Royal Opera House, Will Read Beedle the Bard, Possible New Portrait for British Vogue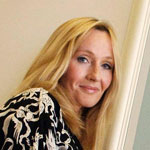 Apr 02, 2009
Update: The BBC is reporting this event at the Royal Opera House has now concluded,with JKR indeed treating the guests to a reading from Beedle the Bard. Dancers also performed a selection from their production of Giselle. You can read more here. Also the video of JKR arriving at the Opera house is here in our galleries.
As a follow to what we first reported below last night, Harry Potter author J.K. Rowling has now arrived at the Royal Opera House in London, England. According to this video report from the BBC, you can see Jo and US First Lady Michelle Obama arriving at the event, where the article notes that JKR will be reading excerpts from her recently released The Tales of Beedle the Bard. Early photos are also here in our galleries, courtesy of Reuters/AP.
Update 2: British Vogue is now reporting that they were invited to record the event today at the Royal Opera House, and "to create a series of exclusive portraits for the magazine." Acclaimed fashion photographer Mario Testino took the pictures,and we will update should there be a new portrait of JKR included in the magazine.
Thanks for the first BBC link Wendy!