Emma Watson to Film for Deathly Hallows Over Christmas, Next March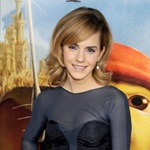 Apr 20, 2009
Actress Emma Watson is the feature of a new cover story for Interview Magazine. In the excerpts from the article which are now online, the actress speaks about her current filming schedule for both parts of Harry Potter and the Deathly Hallows, noting while she will be taking a break to attend University in September, she will be back to film later in the year over the Christmas holidays and again next March. Quotage:
WATSON: At the moment, we're there at about 6:30 a.m., which means
I'm picked up at about 5:45 a.m. We're filming both the seventh and
eighth movies at once, and I'm trying to do all of my scenes now and
through the summer so I'll be available for university come
September"though it already looks like I'll be working on Christmas and
March breaks.
BLASBERG: In these next two films, are most of your scenes with Dan and Rupert?
WATSON: Yes. In the last book, they've left Hogwarts, and they're
traveling around together. It feels right that it started with the
three of us and it's ending with the three of us. It's about our
friendship.
You can read excerpts from interview, as well as see new photos of Emma Watson via this link. Thanks Ivana for emailing!