LeakyCon 2009 Keynote: Editors and Authors Discussion with Cheryl Klein and John Green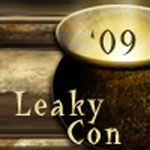 Apr 26, 2009
The third keynote for LeakyCon 2009 (registration here) completes our program in every way: The first keynote we announced (Nosh with Nerdfighters) is all about Harry Potter and community; the second (Q&A with Michael Goldenberg) shines a spotlight on the Harry Potter films and their chief challenge, adaptation; our third is a literary panel that's sure to excite every last booklover (which is to say… all of us):
We present: Editors and Authors: Cheryl Klein and John Green on Writing.
Join us for a very special keynote as we bring a prominent YA editor Cheryl Klein and prominent YA novelist John Green together to discuss the writing process, the editorial relationship, the state of young adult literature and, of course, Harry Potter. Sit in for this unique discussion, to learn what it's really like between an editor and an author as they shepherd a book from start to shelves, writing and editing for a young-adult or teen audience, the challenges and limitations of the genre, what makes a good novel great, and a lot more! There will also be a Q-and-A session.
About the keynoters:
Cheryl Klein, senior editor at Arthur A. Levine Books, Scholastic, has been part of the editing team of the American Harry Potter books since 2001 and has participated in the Harry Potter fandom for even longer. Harry Potter fans are still talking about her speech about the writing lessons in Harry Potter that she gave at Terminus 2008 in Chicago. Her most recently edited books include the William C. Morris Award-winning "Curse Dark as Gold," the Mildred Batchelder Award-winning "Moribito: Guardian of the Spirit," and Francisco Stork's acclaimed "Marcelo in the Real World." Cheryl lives in New York City and blogs regularly.
John Green is a major American young adult novelist. His first book, "Looking for Alaska," won the Michael L. Printz Award for Excellence in Young Adult Literature, the highest honor of its kind. His latest novel, "Paper Towns," is a New York Times Bestseller and a nominee for the 2008 Edgar Awards (Best Young Adult). John is also well-known for his Internet videos as one half of the Vlogbrothers on YouTube, and for helping to create a worldwide community of nerds. You can read more of his writing online here.
FOR THIS KEYNOTE PRESENTATION: We are trying something a little different. This keynote will not be a luncheon, which allows us to offer it to you for less. A ticket to this keynote is $20. You can get one by modifying your registration here.
TWITTER CONTEST: We are doing extending the Twitter contests for our Keynote presentations. If you twitter the following phrases you or the registrant of your choice (so tell your friends to do it) may win a free ticket to the corresponding keynote. (And do not wait to see if you've won to buy a ticket: if you already have a ticket and you win, we will refund you; the winners will be announced the week before the conference). Copy and paste these into your twitter:
#1:
Michael Goldenberg, screenwriter on HP5, is keynoting @leakycon2009! Go here for details: http://tinyurl.com/d9ba8g – more @leaky!
(don't worry, the first phrase we asked you to use will enter you as well)
#2:
Nerdfighters @leakycon2009! Go here for details: http://tinyurl.com/cd4eb8 – more @leaky!
#3:
Cheryl Klein and John Green on writing @leakycon2009 – go here for details: http://tinyurl.com/cmjk2w – more @leaky!
Thanks and good luck!
Also, the only way to win the one-of-a-kind set of signed Harry Potter books is by registering for LeakyCon.
REMINDER: Tickets to ALL of our keynotes are going fast. Here, again, are the links to our other two terrific panels:
Nosh with the Nerdfighters – click here to read about it, click here to register.
Q&A with Michael Goldenberg – click here to read, click here to register.
And more important details!
---
J.K. Rowling and Scholastic have donated a full 10-book set of signed American Edition Harry Potter books for fundriaising at LeakyCon. This world exclusive set is only available to registrants of LeakyCon.
You can only get get a chance for these books by registering for LeakyCon, which you can do here. We are on our last batch of tickets, so do it fast.
Remember, the main LeakyCon registration includes:
Welcome Feast
Leaving Feast
The Rocking Charity Ball
THREE enormous wizard rock shows with more than 15 bands performing
All in-conference programming
Vendor Room
Podcasts, including live PotterCast, Spellcast, Spinnerscast and more
Film screenings
And a lot more – an unbelievable value that is unparalleled anywhere. LeakyCon is a charity conference, with all proceeds benefiting Book Aid International and the HP Alliance.
We will see you there!