I See Sea Shells on Shell Cottage (Updated)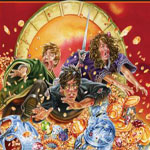 Apr 28, 2009
As a follow now to the first photos TLC first brought you several days ago of Shell Cottage currently under construction for use in Harry Potter and the Deathly Hallows, two new photos are now online. The public group for the Pembroke area of Wales on Flickr now has two new photos of the ongoing work, including one of a nearly completed roof of the cottage, made entirely of sea shells, here. UPDATE: Thanks to Chris and Pete for mailing in some wonderful new photos, taken yesterday at the location in Wales, which you can see here in our galleries.
Reminder: Location filming for Harry Potter and the Deathly Hallows will take place on Freshwater Beach in Pembrokeshire National Park area of Wales May 11 through the 15th. TLC hopes to have a crew there to cover all the filming, however if you are in the area, please send in your reports, photos, and videos to [email protected].
Thanks much to Flickr group Pembrokeshire and user tomix!