LA Times Preview of Half-Blood Prince Includes New Photo of Harry, Dumbledore at Slughorn's Home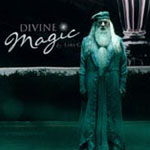 May 01, 2009
The LA Times is running a new preview today of the upcoming Harry Potter and the Half-Blood Prince that also includes a new photo of Dumbledore (Michael Gambon) and Harry (Dan Radcliffe) inside a darkened home of Slughorn. The article contains comments from actor Dan Radcliffe and Emma Watson, as well as from Rupert Grint, who spoke about his Quidditch scenes for the movie
"I found out it was not as much fun to film as I hoped," said Grint,
who was left weary and sore by the mechanized broom handle and had
headaches from staring at the giant green screen that provides the
backdrop canvas for computer artists to later fill in with crowds and
the towering playing field. "It's going to be more fun to watch than it
was to film."
The article also points out the interview with Dan Radcliffe was conducted before the delay of the film last year, and notes:
It was a brisk February afternoon in 2008, and the actor had no idea
that a Christmas would come and go before "Half-Blood Prince" appeared
in theaters; the sixth Potter adventure was scheduled for release last
November but, to the disappointment of fans, Warner Bros. executives
announced last summer that they would postpone the film for eight
months to maximize its market position.
It remains to be seen whether fans will hold a grudge against the film
for the delay — many pledged to boycott it or at least skip the
opening weekend to express their ire — but it's hard to imagine the
popcorn juggernaut can be slowed, much less stopped. The last film,
"Harry Potter and the Order of the Phoenix," pulled in $938 million
worldwide, making it the most successful edition since the first
installment, "Harry Potter and the Sorcerer's Stone" in 2001, pulled in
$974 million. The franchise has brought in close to $4.5 billion, a
number that would make any Muggle studio executive believe in magic.