Rupert Grint on Ron's Changes in Half-Blood Prince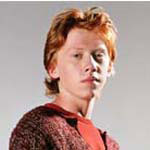 May 01, 2009
A new interview with actor Rupert Grint (Ron Weasley) is online from WizardUniverse.com which features the actor discussing a number of subjects related to the upcoming Harry Potter and the Half-Blood Prince film. Speaking in regards to the evolution of his character over the past six films, Mr. Grint relates how "It just sort of happens." He continues by saying:

"The first three films really do feel like a different person. I think Ron is more grown up throughout the films. The next one we see him grow up a lot more because the wizard world is becoming quite a scary place. And we see him protect his sister, and we see brotherly stuff that he does in the sixth one."
The actor goes on to relate that the maturity level of the books seems to change when "…Dumbledore's army starts to form and we have to stand up to Voldemort. That's when things turned a bit nasty. This sixth one is quite intense and they definitely get darker." Mr. Grint also speaks to the new found attention his character gets in the films from love interest Lavender Brown (played by actress Jessie Cave) in the film. Noting that those intimate scenes are "worse" to watch on screen, Rupert says:

"This one was actually okay because my relationship with Jessie [Cave, who plays Ron's love interest] was quite fun and she was really over the top and quite intense. But it was an awkward scene to do because we'd only met each other two days before. One of the first scenes we did was the kissing one."
The interview continues on with Rupert relating the experience of creating the chair for his broomstick for his Quidditch scenes and his relation to the destruction of the Burrow: "That was an exciting part. We were standing quite close to it, a burning building, and it was quite scary and I think it got a bit out of control. That was a lot of fun."
The full interview can be read via this link.