Cast Members for Harry Potter and the Deathly Hallows Arrive In Wales for Shell Cottage Filming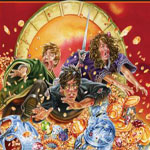 May 10, 2009
As announced previously, location filming for Harry Potter and the Deathly Hallows will be taking place this week in Pembrokeshire, Wales. As such, many of the cast and crew have arrived in the area. Many readers have emailed to say that members such as Dan Radcliffe (Harry), Rupert Grint (Ron), Emma Watson (Hermione), Evanna Lynch (Luna), Domhnall Gleeson (Bill Weasley) and even Warwick Davis (doing duty apparently as Griphook) are now in the area along with other crew, and visited the beach earlier today. Day One filming is due to start in the very early hours tomorrow at Freshwater Beach for scenes involving Shell Cottage, the location of those dramatic and emotional moments with Dobby. Thanks so much to TLC reader Jo, we have some photos of the cottage today as last minute preparation continues, even on the garden out back; you can see more here in our galleries and see additional ones on her flickr account. Update: Jo notes too that on close inspection of the cottage "From the looks of the conservatory and garden, it looks like they may do some internal filming. You can also see a chair in one of the front windows. I couldn't get
over the detail, the little window next the chimney is just such a nice
effect, even lobster pots in the garden!" Also, courtesy of a Facebook group for Freshwater Beach has photos from Sian, here showing crews setting up for filming.
Please note: Given the high profile nature of this filming, many photographers and press are already in the area, and local officials have stated that the traffic routes will be affected by the filming, but pedestrian traffic can still get through to the beach. If you are there for the filming, which will be going on all week long, Monday May 11 through May 15th, please email your reports and photos and videos to [email protected]. Stay tuned, this should be a very exciting week!
Thanks so much to Jo, S, and to all who have emailed!