Here Lies Dobby, A Free Elf: Photos from Shell Cottage Day Two Filming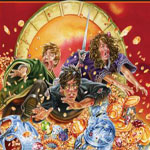 May 12, 2009
Heartbreaking and beautiful: Here Lies Dobby, A Free Elf… photo from Wales Online showing Harry (Dan Radcliffe) digging the grave, while Hermione holds a small shrouded body in her arms. The Daily Mail also has this photo of a grief stricken Hermione (Emma Watson) cradling Dobby. You can see more here in our galleries, including a Trio photo, with Rupert Grint as Ron Weasley. Thanks to TLC reader Victoria we can see two new photos, one of Rupert Grint, and another of Emma Watson Update 2: Thanks to Thiego for letting us know about this dramatic rehearsal photo with Toby Jones as Dobby and Dan Radcliffe as Harry, and this with the Trio, Toby Jones and Warwick Davis as Griphook plus director David Yates.You can see some great high res photos here courtesy of Oclumencia.
Update: Thanks to our Order Partner RupertGrint.net for letting us know that several press agencies are now carrying pics from today, which you can see here from ISFA.com
Day Two of Shell Cottage location filming for Harry Potter and the Deathly Hallows continues on Freshwater Beach, Pembrokeshire, Wales. Thanks, Wendy and to SugarSlam for the set photos.