France to See Touring Train with Half-Blood Prince Props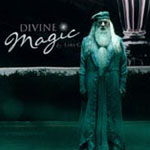 May 13, 2009
Harry Potter fans in France will have a treat this summer as props and costumes from the upcoming Harry Potter and the Half-Blood Prince will be going on exhibit. As they have in years past, Warner Brothers is taking the props on a tour via train, this time in France from June 9 through 21st. Fans will be able to see things such as Weasley Wizards items, Slughorns classroom, Dumbledore's office, Crookshanks, Hedwig and Fang, potions items and much more on this tour which will be all on a train with three coaches. Stops in France include the following:
June 9 : Paris
June 10: Lille Flandres
June 11: Reims
June 12: Lyon Perrache
June 13 :Marseille
June 14 :Bordeaux
June 15 : Limoges
June 16: Tours
June 17: Rennes
June 20: Nantes
June 21: Strasbourg
Thanks much to UHP for emailing!