Location Filming for Shell Cottage Day Four Updates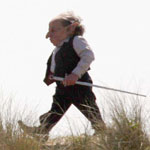 May 14, 2009
Location filming for Harry Potter and the Deathly Hallows continues today for scenes involving Shell Cottage. Due to inclement weather yesterday some work was done indoors in the Pembrokeshire area, however as seen here via Wales Online, the cast took time out for a bit of joyriding on the beach, and the Press Association and the Telegraph have a photo of Emma Watson taking a stroll along the stormy beach. Work does continue today, with final touches expected to take place early tomorrow, and later interior shots to finish up back in the main studios at a later time. We will continue to update this post should there be more from the scene. Be sure to check out our extensive collection of photos from the filming at Freshwater Beach here in our image galleries.
UPDATE 1: TLC reader Ogdensnut reports that yesterday: "they were being moved around in those beach-buggy things between where
they were filming by the water (it looked to us as though that's where
they will apparate to, instead of on to the cliff top as in the book)
and shell cottage in the dunes further up the beach, or their trailers
just out of sight further up still. Many of the cast members seemed to
keep their heads down but Dan was standing up and grinning and seemed
to be enjoying himself. We also saw Domnhall Gleeson trailing his
fingers in the water from a fairly fast moving buggy. The scene at the
water's edge involved Griphook, Harry, Ron and Hermione, lots of Dan
crawling about on the wet sand, and Bill and Luna running to meet them." Thanks O!

As reported previously Harry Potter and the Deathly Hallows is slated for a 54 week production, with much more work due this summer, and many of the scenes involving the adult cast due to film later this fall.