Location Filming for Harry Potter and the Deathly Hallows Wraps In Wales, Shell Cottage to Be Dismantled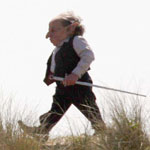 May 17, 2009
As we've reported many times, location filming for Harry Potter and the Deathly Hallows took place this past week on Freshwater Beach in Pembrokeshire, Wales. It was scheduled to run just a few days, and Wales Online is reporting that "by Thursday preparations were being made to dismantle the Shell Cottage
and the stars had made their way back to London, leaving only a few
crew members and security guards to protect the ingenious set." Be sure to check out TLC's extensive collection of photos from the filming here in our galleries, including the most recent ones of the apparition from Malfoy Manor to the cottage.
The Wales Online article notes that many fans were excited to see the filming, and local business hope that fans and tourists will continue to flock to the area, even after the beautiful house made of shells has been removed.
Some hoteliers have been claiming business has been up by more than
150% on the average May, thanks to the arrival of the popular movie
franchise at this particular corner of West Wales.
…
Restaurant owner Jonathan Hughes, 31, of Saundersfoot was on his
second visit to the beach. "It's fascinating, they've built an awesome
set' he said. "The detail on the house is very impressive. I was here
on Saturday to watch them filming and there was a huge crowd. We saw a
couple of the main actors rehearsing, which isn't something you see
every day. "I think it's great for the area and it's bringing
in lots of visitors. I've spoken to people from all over the place. We
were speaking to some teenagers from Shrewsbury who had come down for
the day.
Pembroke Dock resident Chris Haines, 70, was keen to take pictures of the set before it disappeared for good. "It's absolutely amazing. I used to work on films a long while ago but I've never seen anything like this. I love it." The
set has attracted thousands of visitors over the last week. "It's a
pity they can't leave it here, people would be flocking here all year
round."