LeakyCon 2009: Live Wizard Rock Album, Pre-Orders Open Now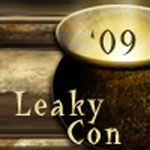 May 18, 2009
(Before anything else: Today is the LAST DAY of registration for the conference and keynotes. Go here to get your registration and here to amend it to add a keynote.)
A huge and exciting announcement regarding LeakyCon today, and this time it's for everyone, not just those of you who are going: We will be professionally recording and producing a live wizard rock album, the sales of which will also benefit Book Aid and the HP Alliance.
And pre-orders are open NOW.
To be clear, this is a never-been-done, one-of-a-kind, two-disc live album featuring the best moments from our huge three-show wizard rock lineup.
It is currently $17 for this two-disc album, but that will go to $20 after the conference, so reserve your copy now. You can do that right here.
Who will be on this album, you ask?
Harry and the Potters
Draco and the Malfoys
The Remus Lupins
The Moaning Myrtles
The Mudbloods
The Whomping Willows
The Parselmouths
Swish and Flick
Gred and Forge
Tonks and the Aurors
Riddle TM
Justin Finch-Fletchley and the Sugar Quills

(and, we hope, Ministry of Magic from their acoustic performance at Saturday's PotterCast.)
NOTE: This album will not ship until August. Any notes regarding why it
has not shipped before then will not be addressed, because we all like
to stay sane. 🙂
We are only THREE days away from the fun, and we will have more details on how those of you who couldn't make it can enjoy some parts of the conference soon.