LeakyCon Live Album: Discount Until End of Day, DVD Coming Soon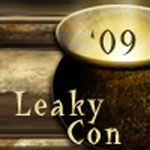 May 26, 2009
LeakyCon 2009 has ended, and it was a spectacular time; for a clue about how things went down here, search LeakyCon on Twitter and YouTube; you'll find hundreds of posts from the events of the weekend. If you missed it, we have two special ways to share some of the magic that happened this weekend in Boston.
The first is the live album. We're extending the discount until the END OF DAY TODAY (mostly because most of staff is in Boston and can't work up the energy to change the information on the PayPal – we are that tired). You can GO HERE to get the album.
The second is the DVD. We recorded special events at the conference all weekend and will be turning those recordings into a high-quality DVD that will be available for pre-order soon.
That's all for now. Thank you to everyone who made this weekend so epic. We'll have more information about donations and such as things settle down from the weekend.
And by the way… this was a dress rehearsal. LeakyCon 2011 is on the way. Follow the Twitter, and stay tuned for updates.