More New Construction Photos from Possible Deathly Hallows Location Filming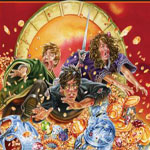 May 30, 2009
As a follow to their earlier photos several weeks ago, London Taxi Tours have now updated their website with photos of what they say is a set under construction for use in Harry Potter and the Deathly Hallows. The website also reads that location filming in Swinley Forest is set to begin June 10th. At this link you can see what is clearly an exterior board to be used for Green Screen filming and more.
Again it is worth repeating what we posted earlier on this: While we at TLC think this could possibly be for
scenes involving Malfoy Manor as the adult actors are set to begin
filming this summer, it is also very possible this location may be used for scenes
involving the flight of the Trio on the Dragon and their landing, or more camping and the dramatic events involving the Silver Doe chapter, or
even parts of the battle of Hogwarts; we simply do NOT know, and will
update with more when we can. Also we've received several reports that
more location filming may take place again in Burnham Beeches this month as well although this is very much unconfirmed.
Production on Harry Potter and the Deathly Hallow is slated to
continue the entire rest of the year as well as into the early months
of next year, with part one due in theaters November, 2010.
Thanks so much Peter, Matt and LondonTaxiTours!