Irish Central Feature: Evanna Lynch Talks Luna Lovegood in Half-Blood Prince and More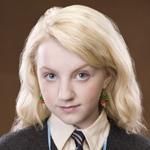 Jun 11, 2009
Irish Central has now posted a new interview with actress Evanna Lynch who discusses her role as Luna Lovegood in the Harry Potter series. Evanna speaks at length on the eccentric Ravenclaw student, noting her role in the events of the upcoming Harry Potter and the Half-Blood Prince.
"Luna doesn't change but her position changes in this new film. Most
people are aware of her reputation for being crazy. She's certainly
picked on by the other students' Lynch says."As in any school
people are reluctant to be close to that kind of person. Or to be seen
to be close to her. But Harry is a lot more comfortable with himself in
this film. He's not as conscious of what people think of him or he just
doesn't care now."He accepts Luna and he calls her a friend and
she's thrilled. She helps Harry to see sense when he gets caught up in
his struggles. She reminds him who he is."
She continues: "Luna seems small and young and not noted for being brave, and yet
she is. She's really calm though, she doesn't get surprised by
anything, and she accepts people's differences' Lynch says. "In
fact J.K. Rowling told me as a character she's the most adjusted to the
idea of death in the whole series. That cuts out a lot of fear for her.
She tries to impress it on Harry. She'll take it as it comes."
Evanna also gives her thoughts on her character and shipping, and yes it involves… Dumbledore. Quote: "Maybe I shouldn't say this, because it might get me in trouble. But
there's this big thing among people who are fans of the books. It's a
thing they do as fans called ˜shipping,' which is short for
relationship.
"The fans create ideal pair ups based on the books. There are some really crazy ones. I don't know if I should say. But
some people think Luna and Professor Dumbledore would make a great pair
in another universe. I mean obviously he's far too old for her, but
their personalities completely match. They're calm and accepting and
quirky and I think they're both really creative. I'd say they'd be fun
together."
This lovely funny actress goes on to speak of her enjoyment of the theater and determination to carry on with acting post Potter, saying while she loves Ireland she is thinking of moving to London to pursue her career.
"I'm completely fascinated by the theater. I love going to the West End to see the shows. It's acting without all the hype attached to it. Actors are given more fee reign, you know?" she says. "I
just love watching one person on a stage holding the whole audience
captivated. Whereas in film you're very protected, you can mess up, you
have that freedom and you can always ask to do it again."