TLC's Harry Potter Crafts Celebrates its Third Birthday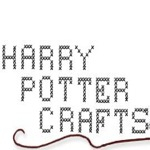 Jun 12, 2009
Happy Birthday wishes go out today to our very own Harry Potter Crafts section, which is today celebrating its third year here on TLC. Our HP Crafts section, which can be accessed right here, contains projects and plans for crafts across most every medium imaginable. Selections abound in our crochet, jewelry, and knitting sections, as well as in the Woodwork, Needlework, Quilting, Fabrics, and Interior Decoration areas. HP Crafts has also procured various selections in Harry Potter related food recipes and scores of other crafts as well. Crafters of all levels can enjoy a bountiful supply of projects, so do not delay in finding your next crafting project right here on Leaky.
Major congratulations go out to our entire crew of Crafty Witches, who work tirelessly to bring you the latest, greatest, and most fun Harry Potter themed crafts on the internet. Three cheers to you!
Check out our Harry Potter Crafts section, and accompanying Leaky Lounge forum, today!