Marketing for Harry Potter and the Half-Blood Prince: One if by Movie Theater, Many if by Subway Posters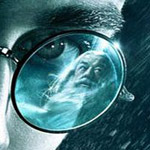 Jun 13, 2009
Look closely and you shall see, a poster for Harry Potter and the Half-Blood Prince…or three..or many! Marketing is in high gear for the upcoming sixth Harry Potter film. Thanks to TLC reader hpboy who emailed us about a fantastic bunch of posters he spotted last night lining the walls of the subway in New York City near Times Square. You can see his large collection of photos he took with fellow fans here via his Flickr. Also thanks to Andy from Harry Potter FanZone who let us know about a poster from Australia showing Dumbledore and Harry outside the cave
As these posters are soon to be on walls, billboards, sides of buses movie lobbies and more all around the world, if you are out and about and take photos of these, please send them to [email protected] and we will post them! Thanks much hpboy!
UPDATE: Thanks to Enrico from Harry Potter Update for these photos of lifesize cutouts of Harry Ron Hermione taken in a theater located in the Philippines
PLEASE NOTE: Again, we apologize for the down time we are experiencing with several of our sites, including our galleries, and hope to have them up again in the near future. Thanks for your understanding!