BeWitching the Dead in Half-Blood Prince: LA Times Talks Creating the Inferi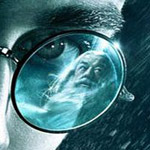 Jun 18, 2009
The LA Times Hero Complex blog has been updated today with a new article on bewitching the dead or creating the Inferi for the upcoming Harry Potter and the Half-Blood Prince film. In a new interview with Tim Alexander, special effects mastermind from ILM, we learn that it took "several months to complete the approximately seven-minute scene, from
rendering millions of Inferi to whipping up Dumbledore's flame tornado.(best for combating meddling dead folks.)" Noting that he believes the scene will scare little children, we learn more about the process used to create these horrible creatures used to do Voldemorts bidding in the cave scene. Please note the article has a slight spoiler regarding Harry during the scene.
Tell me about how the Inferi look. How did the design come about?
The
art department on the film gave us a lot of references, like Dante's
"Inferno," where they have all those bodies. The Inferi themselves are
very skinny and emaciated people. Very humanoid, but way skinnier than
humans could be. Waterlogged and gray. We used the old lady that comes
out of the tub in ˜The Shining' as a reference. Most of the Inferi are
adult, but we did also build two children, too.
….
That sounds ¦ disturbing. Certainly, more so than the previous "Potter" films.
It's
certainly much bolder and scarier than we imagined that they'd ever go
in a "Potter" movie. Director David Yates was really cautious of not
making this into a zombie movie, so we were constantly trying to figure
out how not to make these dead people coming up look like zombies. A
lot of it came down to their movement ' they don't move fast, but they
don't move really slow or groan and moan. We ended up going with a very
realistic style. They move like anyone coming up out of water.