Bonnie Wright: An Entertainment Weekly Movie Must BeWitching Love Interest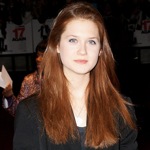 Jun 19, 2009
Actress Bonnie Wright is featured this week in Entertainment Weekly as a "Movie Must Bewitching Love Interest." As seen via this link, the magazine says:
AGE 18

WHY HER Few Harry Potter fans imagined that Ginny
Weasley would blossom into the love of the boy wizard's life. Ditto
Wright, the actress who has played Ginny since she was 9. Now Wright
and her character move into the spotlight with Harry Potter and the Half-Blood Prince, opening July 15.
There is also video of Bonnie noting her summer musts, where she notes she has Leonard Cohen, Truffaut and also "I'm reading Milton's Paradise Lost," she says. "Creation, Adam and Eve, fall of man " great stuff."
Thanks to our Order Partner Bonnie Wright Online, and Fez for emailing!