David Yates: Snatcher Scene Just Filmed For "Deathly Hallows, Talks Split of Films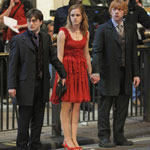 Jun 19, 2009
The LA Times Hero Complex blog has been updated with a new interview of director David Yates who gives an update on the filming for Harry Potter and the Deathly Hallows. Noting the interview took place in the wee hours of yesterday, David Yates tells the LA Times:
"We're here in the forest, we've just finished the scene where Harry, Hermione and Ron
are captured by the Snatchers after being chased through the woods. The
Snatchers are brutal and scary but they aren't the most intelligent of
creatures.They're trying to figure out exactly who it is they've
caught."
In more exciting news, David Yates also speaks to the splitting point of the two films. Quotage:
"I asked Yates if he had decided on the splitting point — the juncture at which the seventh film will stop. "Yes, I think we have," he said. "Things can change when you edit,
of course, but the idea now is that it will be not long after the
sequence that we are filming here today. That's what we're
experimenting with. We've had three or four different ideas about where
to cut off the seventh film. Traditionally, the movies have ended with
a death or a bereavement, some sort of passage or arrival. This time we
think we will end with more a cliffhanger. Again, though, that's the
thought as of this moment."
There is talk as well regarding the upcoming Harry Potter and the Half-Blood Prince. David Yates is asked about the casting of the Trio, and his answer is quite enthusiastic.
I told Yates about my new theory: That the single best decision made in show business over the last decade was the casting of Daniel Radcliffe, Emma Watson and Rupert Grint in the lead roles of Harry, Hermione and Ron. I could almost hear him smile on the other side of the Atlantic.
"Absolutely, I think you're correct. It was an extraordinary bit of
judgment, bringing those three in. They have been so stable and
level-headed and in working with them I continue to be impressed by how
keen they are to challenge themselves and to try new things to bring
out the characters that they portray. They have become these engaging
ambassadors for the films and the story. They have been endlessly
enthusiastic. They want to see how good they can be in these roles.
They haven't had their heads turned, either, by the fame and attention
or any of it, which is wonderful for everyone to see."