Sit Down and Feel the Power of the Half-Blood Prince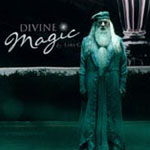 Jun 25, 2009
Harry Potter fans in select movie theaters will have an opportunity to experience Harry Potter and the Half-Blood Prince in a whole new way. Five theaters in the US will screen the sixth Harry Potter film, with the seats to offer a new D-Box Motion-enhanced system. According to the press release, this type of specially equipped theater seating "captivates moviegoers, creating a completely
immersive, realistic experience where audience members feel as though they are
actually in the movie," allowing Harry Potter fans to "experience the whimsy
of flight and the intensity of battle" as they watch Half-Blood Prince. The five theaters in the US to feature this special seating for screenings of HBP include: Galaxy Cannery in Las Vegas, Nevada; Mann Chinese 6 Theatre in Hollywood; UltraStar Cinemas
in Surprise, Arizona; Galaxy Highland Theatre in Austin, Texas; and Theatres
at Mall of America in Bloomington, Minnesota. The Cineplex Odeon
Queensway in Etobicoke, Canada will also provide this seating.