Sporting Grand Glamourous Style by Horace Slughorn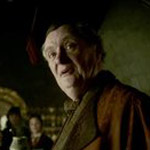 Jun 25, 2009
Thanks much to the LA Times for another alert on the daily installment of Harry Potter countdown articles before the release of Harry Potter and the Half-Blood Prince. Today's article: An interview with Jany Temime and her costumes for the flamboyant character of Horace Slughorn. Of interest in the pieces is new insight on how the appearance of the character as portrayed by actor Jim Broadbent differs from how is he is described in the novel by Harry Potter author J.K. Rowling. The article describes this as follows:
In the book, the pot-bellied Slughorn looks like a cross between a walrus and an armchair, a pompous, rotund little man, several sizes too big for his britches and weighted down over the years by the knowledge of a horrible secret. How would Temime transform the formidable — and tall — Broadbent into such a precious, palm-greasing fellow?
By deciding not to. "In the book, Slughorn's ever-so precious' Temime said. "But once we had Jim in the part, I thought instead of precious, we'd make him grand.""Jim is not a small, fat man. He is tall and strong' she said. "So we had to change and adapt." To do that, Temime used all of J.K. Rowling's atmospheric detail to tell the story of Slughorn through his clothes rather than his size.
She explains: "Everything we did for his costumes was very rich, but also very used, because he's not a rich man anymore. He hasn't worked for a long time. He is a bit of a has-been. But his clothes, even if they were from 20 years ago, were once upon a time, very rich and very glamorous. So we went for 'Old Glamour' when designing."Very pompous, very extreme, very glorious