Early Review of Harry Potter and the Half-Blood Prince Now Online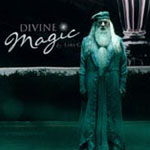 Jun 27, 2009
A staffer at Hollywood.com attended an earlyl screening today of Harry Potter and the Half-Blood Prince and has now posted his review online. A very positive review, the author even titles the piece "Mr. Potter, Meet Mr. Oscar." The reviewer writes he was not a huge fan of the series before, however now:
"stand back because now the Potter-loving
beast in me has been unleashed after having witnessed a film that was
not only exquisite in its production values, but was also charming,
funny, scary, enchanting, moving (stop me, the adjectives could go on
and on) and dare I say, sexy. Brilliantly directed by David Yates (he
directed 2007's Harry Potter and the Order of the Phoenix), Harry Potter and the Half-Blood Prince
is a tour-de-force that combines style and substance, special effects
and heart and most importantly great performances from all of the
actors young and not-so-young.
Daniel Radcliffe, Harry Potter himself, has evolved into a really fine young actor who
gives the film its emotional core. However, if Radcliffe is the heart, Michael Gambon
is the film's soul as Albus Dumbledore; Gambon gives a powerfully
subtle performance as the de-facto father figure to young Mr. Potter.
Of course, the always great Alan Rickman gives another menacingly creepy and memorable turn as the evil and
duplicitous Severus Snape. The cinematography, music, set design and
costumes are all amazing, and the film has a truly rich look to it
reminiscent of the best of the old-school Hollywood epics.