PotterCast in Louisiana and Texas!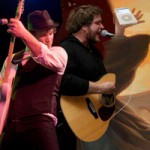 Jun 28, 2009
Posted by Melissa Anelli
The PotterCast tour is rolling along (all the dates and locations can be found here at www.hpdanceparty.info) and has been having an amazing response with our friends from The Whomping Willows and The Remus Lupins. Our shows in Louisiana and Texas are upon us. Check it out, and we will see you there!

June 28, 2009 Metairie, LA 2pm Jefferson Parish Library, East Bank Regional Branch 4747 W. Napoleon Ave, Metairie, Louisiana 70001 (click here for map)Facebook
June 29, 2009 Houston, TX
4pm Houston Public Library 6200 Pinemont, Houston, Texas (click here for map) Facebook
June 30, 2009 Book People, Austin, TXHarry, A History signing at beginning
6:00pm 603 N Lamar, Austin, Texas (click here for map) Facebook
July 1, 2009The Daily (Prophet) Bar, Dallas, TX2548 Elm St., Dallas, TX 75226 (click here for map)(Advance tickets at theprophetbar.com)(Facebook)