Rhys Ifans Says He Has Not Yet Read Harry Potter and the Deathly Hallows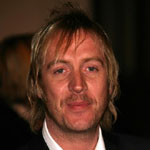 Jun 03, 2009
Several weeks ago, TLC first told you that actor Rhys Ifans would be portraying the role of Xenophilius Lovegood, eccentric publisher of the Quibbler magazine, and the father to DA member Luna Lovegood in Harry Potter and the Deathly Hallows. Several times now Rhys Ifans has spoken about his involvement in the series, the most recent in an interview for Wales Radio. Scores of readers have emailed saying a translation of the interview is online via Forum Wales, that reads as follows:
I
can't reveal much about the new HP film, which I don't understand
because the book is out anyway, but I had to sign a clause that I
wouldn't. However, I play Xenophilus Lovegood, a wizard who is the
father of Luna Lovegood, one of HP's friends. That's all I can really
say because I haven't read the book! There's been so much money thrown
at the project, with there having been 5 other films. They're filming
up in Levenshue near Luton in an old Rolls Royce airplane engine
factory. It's an enormous place, so you walk about and see things like
a zoo full of owls, so if you need an owl for a scene, you pick up the
phone and someone comes across with an owl. It's a like a machine. I've
never been – in America – with an employer of so many people. I'm not a
big fan of HP but it feels like a priviledge to get called up with
people like Maggie Smith and Michael Gambon so it's an honour that they
thought of me to play a cross-eyed wizard.
TLC believes Rhys has filmed several times already in the part of the flamboyant magazine editor, with Harry Potter and the Deathly Hallows Part One due in theaters Thanksgiving weekend, November, 2010. Thanks so much M for the translation, to Mary, David, Bill, SS, and all who emailed!